HARROW UNISON LG BRANCH nominates
Heather Wakefield for UNISON General Secretary 2015
Harrow UNISON Branch Executive Committee invited all General Secretary candidates to take part in a rigorous hustings meeting convened at the branch office last Thursday 1st October 2015.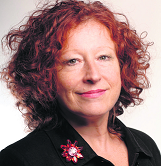 Harrow Branch Officers welcomed Roger Bannister, John Burgess (spokesperson in attendance was George Binette), Dave Prentis (spokesperson in attendance was John Gray) and Heather Wakefield.   
All candidates were put through their paces and were given the opportunity to present their case and also answer questions from the Committee on wide ranging issues such as the Trade Union Bill, last year's pay dispute, their views on Commercialisation and to outline their own achievements as trade union activists. 
The Committee voted unanimously to nominate Heather Wakefield as General Secretary candidate and were impressed by her candidness and by the specifics of her plans to face the daunting challenges ahead in support of our members.     
Members will be receiving General Secretary ballot papers from the 9th November 2015 and as a Branch Executive Committee we ask that you take part in the ballot process and use your vote.
Harrow UNISON Branch Executive Committee
7th October 2015