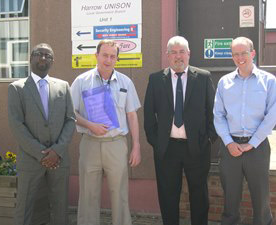 This is the third time Harrow Council have been hauled into arbitration by UNISON; the last time witnessed the HR Divisional Director giving a short-lived commitment to ACAS that the Council would be compliant with all employment policies and procedures because of previous unfair practise and treatment against our members. 
Political events and the change of Administration in the curious "Coalition" of Independent Labour and the Conservative Group are now having a direct and disproportionate impact on our low paid members of the Council. 
In an attempt to resolve this blatant unfavourable treatment UNISON submitted a petition with over 300 signatures to Council Leader Idaikkadar and members of his Cabinet. 
The petition registered disdain at the "pause" enacted in the PRISM process which directly reduces senior & higher graded (management) staff through redundancies, whilst numerous job cuts concentrated on frontline and low paid staff through MTFS (Medium Term Financial Strategies) continue regardless. 
Sadly, the political influence "pausing" this process, exerted by the Non-Executive wing of Cabinet, has been clearly exercised in favour of managers and managers alone, over and above those in the lower pay grades of the workforce and despite previous rhetoric from some in the new Cabinet that they support "our boys (and girls) in the frontline". 
Despite the Non-Executive and non-decision making roles of certain Cabinet members, it appears influence and position have directly impacted processes favouring one group of staff over another, totally disregarding our members rights to receive fair and equal treatment in their employment with Harrow Council.  The petition called on Cabinet to provide an explanation as to how this appalling situation came about and what will be done to rectify it. 
So far UNISON have not received a response to this urgent petition and with equipment & vehicles being withdrawn from the frontline as a result of the continuing and disproportionate attack on lower graded staff by the Council's political elite, ACAS have agreed to intervene to seek an explanation and the fair compliance with employment practise that we are seeking and that our hard working members deserve.
The Branch will update the website as events unfold but we ask that you continue to support your union in these very difficult and challenging times. 
Last Updated on Saturday, 08 June 2013 06:33